Bitcoin Whale Takes Action: $60 Million Worth of BTC Transferred After 9 Years
The recent price drop caused Bitcoin (BTC) whales to take action. A wallet that remained inactive for 9 years showed activity by transferring more than 6 thousand BTC. According to on-chain analyst Lookonchain, a recently active Bitcoin address received 6,071.5 Bitcoins on December 19, 2013, when the price of one Bitcoin was only $663.
This address, which has just woken up after nine years, is making massive BTC transfers, especially at a time when Bitcoin whale movements are fierce. However, the tendency for old users to transfer funds to new wallets is a common occurrence in the cryptocurrency industry, so the exact reason for this selling Bitcoin by crypto whale is unknown. 
Bitcoin (BTC) at a Crossroads as Price Hovers Near $30,000
Bitcoin (BTC) has been trading around $30,000 for the past week and has come to a crossroads for the upcoming price action. Ethereum (ETH), the world's second-largest cryptocurrency by market cap, has also begun trading around $1950 after experiencing a recent decline in value during the bear market. Similarly, most altcoins in the cryptocurrency market accelerated their depreciation due to the fall in BTC. The total market cap of the cryptocurrency industry has dropped to $1.21 trillion, according to data from CoinMarketCap (CMC).
After reaching the $30,000 level, most investors and traders wonder where the king coin will go from here as it is at a technically and psychologically significant price level. BTC broke the $28,000 resistance and tested up to $31,000 last week. But after gaining momentum it recently turned bearish and tested between $29,102 – $29,230. For now, this resistance is of great importance in the upcoming price movements of Bitcoin (BTC). Exceeding these levels may cause BTC to continue its uptrend strongly. However, in a possible bearish scenario, the monthly opening price and support at $28,250 will be critical.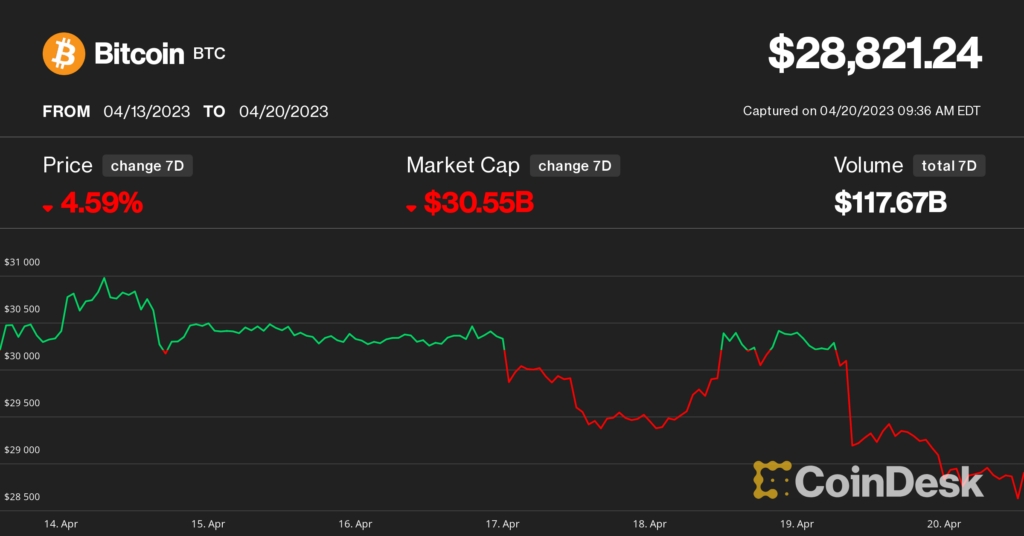 Understanding the Reasons Behind Bitcoin's Recent Dump
With BTC testing $29,000 with more dips, market analysts are unable to identify the reason for the recent bearish movement. Some believe the trigger may be the inflation rate in the UK.
The Office for National Statistics (ONS) reported that the UK Consumer Price Index (CPI) inflation rate decreased from 10.4% in February to 10.1% in March. The reported rate is significantly higher than the 9.8% estimate of economists polled by Reuters and the 9.2% predicted by the Bank of England (BoE) in February.
Following the release of the data, traders began pricing further rate hikes in the UK. Meanwhile, the announcement of European Union inflation data did not surprise the markets, while the high course of core inflation increased the pressure on interest rates.
On Tuesday, April 18, U.S. Securities and Exchange Commission Chair Gary Gensler appeared before the Financial Services Committee and advocated his agency's crackdown on cryptocurrency markets and strict regulation of market manipulation. Gensler did not answer a question about Ethereum but noted that the SEC's fight against cryptocurrencies has been successful. His stance on cryptocurrency regulation may also contribute to overall market uncertainty and volatility.
BTC Price Affected by Data
The recent BTC price action has had negative outcomes that can be found in many crypto data. Especially when we look at the liquidation rates, it is seen that many investors are liquidated in BTC trading and these liquidations have high weights. However, investors may turn to more stable traditional investments during economic uncertainty, which could lead to an increase in demand for Bitcoin (BTC) due to the increase in inflation. Some investors may view Bitcoin as a hedge against inflation, which could increase demand and drive up its price.